Where To Medicate with Cannabis in Sacramento
GreenRush is expanding its horizons to bring fast, reliable, and discreet cannabis delivery all over the US. Lucky for you, we've just landed in Sacramento and are already beginning to unite the best dispensaries in the city in one place.
To celebrate, we've put together this handpicked list of the best places to medicate at with cannabis in Sacramento. From relaxed hikes and walks to some the best downtown spots of green, there's something here for everyone.
On top of that, we'll be giving every new GreenRush user $20 off their first FOUR orders of medical cannabis in Sacramento. So, check out the list, use the promo code at the bottom of this post, and start using GreenRush to get the best cannabis deals in Sacramento today.
For a comprehensive list of the best cannabis dispensaries in Sacramento, click here.
William Land Regional Park
Tucked away between Interstate 5 and State Route 160, William Land Park is a beautiful central location to check out if you're looking for a nice, chilled placed to medicate with cannabis close to the heart of Sacramento city.
It features over 160 acres of developed parkland and makes for the perfect getaway only 3 miles away from the rush of downtown. The park combines a variety of attractions, such as the Sacramento Zoo and Funderland, as well as relaxed walking trails and beautiful scenery.
A few small lakes are scattered throughout the centre of the park and make for the perfect place to kick back and watch life roll by. There's also a nice little rock garden just north of the Sacramento Zoo which is also worth checking out.
William Land Park also combines a variety of sporting and leisure amenities, such as sport fields for basketball, soccer, and softball, picnic areas with public barbecues, and restrooms. The amphitheatre at the centre of the park also hosts a variety of events, such as live shows and community festivals.
If you're looking to avoid crowds, we suggest you stay away from the southern parts of the park near the Sacramento Zoo and Funderland, as that area can get some tourist traffic. The park is open from dusk til dawn every day, and entry is free. Entry into individual attractions within the park varies.
Hours: Dusk til dawn.
Directions: Click here.
Discovery Park
Located roughly 4 miles from downtown Sacramento, Discovery Park combines 302 acres of parkland with beautiful views of the water. It is is another great option for quickly escaping the city without having to travel too far.
The park is situated right where the American and Sacramento rivers meet, and combines a scenic paved walking trail, picnic areas, ball fields, and boat ramps. The Jebediah Smith Memorial Trail runs through the heart of the park, starting near the Interstate 5 and ending near Old Sacramento. It is a popular running, walking, and biking track.
The park also features an abundance of wildlife and is the perfect place to sit back, medicate, and observe many native bird species. There're plenty of shady trees, and it is permitted to swim in the rivers.
Discovery Park also hosts concerts, festivals, and other events. It is open from sunrise to sunset, and entry fees may apply. Visit the park website for more information.
Hours: Sunrise to sunset.
Directions: Click here.
Paradise Beach
Located just 2 miles north of California State University, Paradise Beach is a beautiful spot to take in some sun, have a dip in the water, and kick back as you medicate. Situated on a small oxbow bend in the American River, the beach sits on a peaceful little cove.
Note that this spot can get crowded, especially during summer months. Head to the main shore if you're not bothered by larger groups of people barbecuing by the shore, or try your luck finding a secluded spot a bit further away.
There are a few short paths that run along the edge of the river if you want to stretch your legs, and fishing is also permitted during the off-season. Picnics are allowed year round.
Hours: Sunrise to sunset.
Directions: Click here.
Capitol Park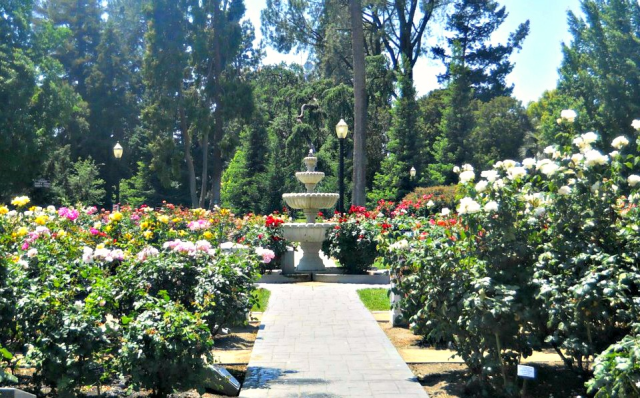 Located in the heart of Sacramento, Capitol Park is everything but a hidden gem. Regardless, it is a beautiful place, and it's central location makes it a great option for medicating during the week, especially if you work/live close to the city's CBD.
Capitol Park definitely qualifies as one of Sacramento's biggest attractions. It features memorials to commemorate many of the state's historic milestones, beautiful walking trails, and an abundance of trees from around the world, including banana trees, palms, oaks, maples, and much more.
The park combines numerous flower gardens which are perfect for a leisurely stroll, and there are plenty of places to sit and watch life pass you by. If you're a bit of a history buff, check out the many monuments within the park, such as replicas of the liberty bell, the war memorial, or the monument to firefighters.
We also highly recommend checking out the International World Peace Rose Garden, located on Capitol Avenue and 15th Street. It's especially beautiful in the late afternoons, and the scent coming off the plants is impressive. The park is open all week long.
Hours: All day.
Directions: Click here
Jebediah Memorial Trail / American River Bike Trail
The Jebediah Memorial Trail is an iconic paved walking/cycling track running all the way from Folsom to Old Sacramento. The entire trail is 32 miles long, but it is accessible from various parts of the city meaning you don't have to tackle it all in one go, and there are plenty of riverside benches along the way to relax on.
The trail starts at Discovery Park, crosses into the Folsom State Recreation Area, and ends at Beals Point. The trail runs along the American River and offers beautiful views of the water and the surrounds. It is a popular area for walking and biking, but there are also plenty of picnic areas scattered along it. Fishing is also very popular along the track.
A variety of wildlife can also be spotted along the trail, including the occasional deer and a variety of birds. While the trail does get a lot of foot and bike traffic, it is such a long stretch that there is plenty of quiet time to be found. There are also plenty of access points to the river if you like to sit by the water and medicate.
The trail is open year-round from sunrise to sunset, and access fees may apply if you're planning on using one of the boat ramps to get out on the water.
Hours: Sunrise to sunset.
Directions: Various access points. Visit the Sacramento County's website for more information.
GreenRush: Bringing Cannabis Delivery to Sacramento
Now that you know where to medicate with cannabis in Sacramento, it's time to get your hands on some of the best marijuana and cannabis products in the city. Start using GreenRush today to find the best dispensaries in town, and remember to use the promo code below to receive $20 off your first FOUR orders. Oh, and be a good friend and share this with your buddies will you?