Top Tips For Getting the Perfect Dose with Cannabis Edibles
In this post we guide you through the process of medicating with cannabis edibles. Have a read, share it with your friends, and use the promo code at the end of the article to receive $20 off your first FOUR cannabis orders on GreenRush. 
Nowadays, medical marijuana is regularly prescribed for patients suffering from a wide range of ailments. But some patients aren't into smoking marijuana, so many dispensaries carry edible options including everything from THC-laced lollipops and double chocolate brownies to oil infused capsules with no taste at all.
Edibles are a great alternative to smoking, allowing you to reap the medicinal benefits of marijuana and keep your lungs clean. However, everybody reacts differently to medicine, whether it's inhaled or taken internally, which is why it's important to know what you're getting into before eating any type of marijuana edible. Here are a few tips help you get the perfect dose with your cannabis edibles.
Don't Eat Cannabis Edibles on an Empty Stomach
[caption id="" align="alignnone" width="1920"]
Photo provided by hempbeach.com[/caption]
Cannabis edibles are no different than any other medicine and they should never be taken on an empty stomach. Many aficionados liken cannabis edibles to common painkillers, which require food in your belly to work properly. We've all seen that warning on our prescription bottles that says "caution: Take with food," and this is no different.
Different Edibles Have Different Effects
There are a ton of different ways to make edibles; some are made with hash butter, and others might contain oils, and still others may be cannabis-laced water, like the Aqua Kush Water available from B and N Healthcare, which contains the popular marijuana strain OG Kush. Those with more of a sweet tooth are in luck, because there are a ton of candied edibles to choose from, like the Day Dreamers Chocolates available from Big Sur Cannobotanicals. These chocolates come in a few different flavors, such as peppermint or milk chocolate, and varying doses. Some have high THC content, while others contain strains with lots of Cannabidiol (CBD) to treat anxiety, muscle spasms, and inflammation.
California's Kindest also offer a vast variety of highly potent cream cakes, chocolate lava cakes, streusels, peanut butter bars, oatmeal cookies, caramel and chocolate brownies, and much more. If you want to try some more unique edibles, check out Grasshopper SF, who sell THC honey straws and cannabis-laced white cheddar popcorn. Of course, gummies are another popular edible favorite. The Valhalla Confections gummies carried by California Wellness come in variety of types, including various sativa and indica strains, as well as gummies that are high in CBD.
The Testing, Dosage and Packaging of Cannabis Edibles
[caption id="" align="alignnone" width="2000"]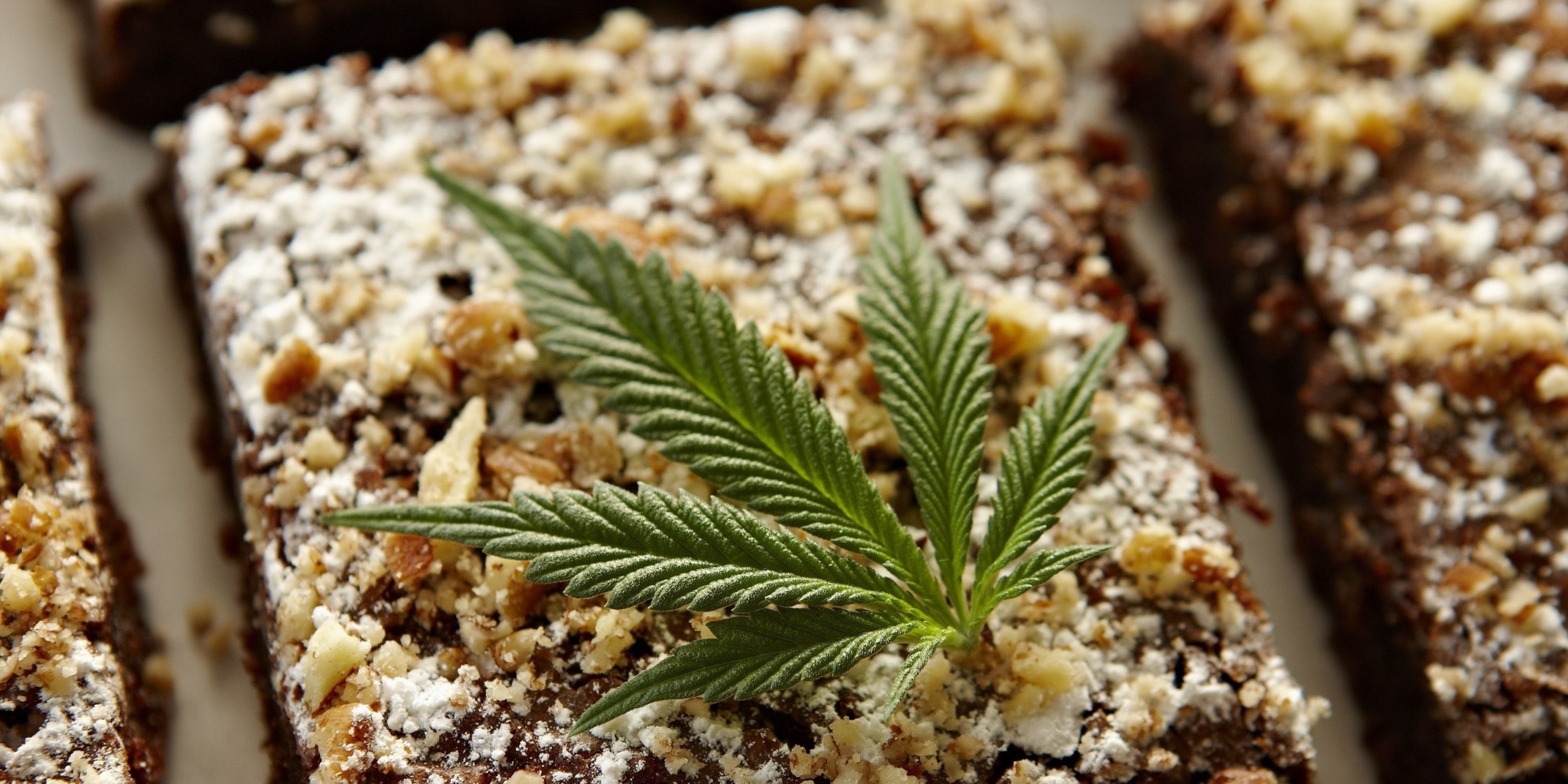 Photo provided by sensiseeds.com[/caption]
You would never take any type of pain reliever or antibiotic without knowing the proper dosage right? Well, medical marijuana is not different. Finding the right personal dosage of cannabis edibles is arguably one of the most important things to take into consideration when exploring your edible options. Measuring your dosage is a way to track your cannabis intake and control its effect on your body. Typically, anything taken internally like a brownie, cannabis-laced drink, or tincture is measured in units of milligrams: If you've got a brownie that's supposed to have 100 milligrams of THC in it, then you divide it into pieces accordingly. If you've never taken cannabis edibles before, start out small with something like 10-20 milligrams, then work your way up whenever it feels comfortable.
Knowing the potency of the cannabis edibles you'll be medicating with is also very important. Most states that allow the production and sale of medical marijuana also regulate the testing of the drug, and have developed clear-cut procedures to test the potency of various strains and products such as edibles and tinctures.
Companies like CB Labs use different methods to test the potency of marijuana. For example, the use of liquid chromatography helps them to determine a variety of things, including the particular strain's cannabidiol profile, as well as the level of THC and other compounds in the drug. When shopping for edibles either in person or online be sure that the labeling of any edible you're purchasing has details about the nutritional value and chemical compounds found in it.
Just like each state has different laws to govern the sale and production of medical marijuana, they also have varying labels. Recently, to improve the accuracy of edible marijuana products and make them safer, most states are requiring edible companies to have extensive labeling on their products that describe how potent they are, and where the products or the medical marijuana used to create the edible was tested. The labels also contain information about the compounds in each edible, and other information, such as nutritional facts. States also require that each edible be tamper-proof, and child-proof.
Take it Slow at First
Keep in mind, it's always OK to take it slow. Edibles will affect each person differently, so if you're not used to smoking medical marijuana, or it's your first time taking marijuana at all, act accordingly. Try testing the waters first with only 10 milligrams, and if you're not satisfied with how you're feeling after 45-60 minutes, up the dosage a little bit.
Also remember that some edibles may take longer to kick in than others. For example, it may take you much longer to digest a brownie than it will to feel the effects of a gummy or lollipop. It would be wise to ask the dispensary where you purchase your edibles whether or not the company that produces them includes an activation time, or offers any additional dosage information.
For a full list of dispensaries near you stocking only the finest edibles, visit GreenRush today. Plus, sign up using the promo code below and you'll get $20 off your first FOUR cannabis orders. What are you waiting for?