Five Reasons To Try Medical Marijuana in 2016
The last few years rang in huge changes for the U.S. marijuana industry. In 2012, Colorado and Washington made the historical decision to legalize the recreational use of marijuana, and by April 2015 23 states (along with the nation's capital) had legalized marijuana for medicinal use.
Since then, countless researchers and policy makers have spoken out about their changing opinions on the cannabis, both as medicine and as a recreational activity. These opinions not only highlight a huge change in attitudes towards the use of marijuana, but also open doors for marijuana to undergo further testing. This is allowing our society to become more familiar and comfortable with cannabis.
While some still find marijuana controversial, experts agree that medical marijuana should be legal in order to allow patients to benefit from the strong medicinal properties. Legal medical marijuana gives researchers more freedom to study and legitimize the medical practices employed by medical marijuana doctors.
In February 2015, US Surgeon General Vivek Murthy took to national television and said that there is preliminary data showing that marijuana is helpful in the treatment of some medical conditions. "We have to use that data to drive policy making," Murthy said.
If you have considered trying medical marijuana but you're unsure if it will benefit you, let us give you a rundown of what we believe to be some of the best reasons to add medical marijuana to your life.
Medical Marijuana Has Been Used For Thousands of Years
[caption id="" align="alignnone" width="1933"]
Cannabis Sativa in sixth-century illuminated manuscript of De Materia Medica. Image courtesy of Wikipedia.[/caption]
You may (or may not) already know this, but it's worth repeating; this isn't the first time humans have accessed the medicinal properties of medical marijuana.
In the Pen Ts'ao, a Chinese botanical book that dates back to the first century AD. cannabis was prescribed as an aid for menstrual cramps, rheumatism, gout, and a long list of other ailments; even constipation.
Cannabis was also used to provide anesthetic relief during surgery by Chinese physician Hua T'o in AD 200. Dioscorides, an Ancient Greek physician and pharmacologist, referred to cannabis as an earache reliever in De Materia Medica, a monumental list of over 600 medical plants/minerals and 900 remedies written between 50-70 AD.
Humans have used cannabis for thousands of years for medicinal, personal, and spiritual purposes. For more information about how ancient civilizations used cannabis, check out our previous article on cannabis in the ancient world.
Cannabinoids, Cannabinoids, Cannabinoids
[caption id="" align="alignnone" width="900"]
CBD oil. Image courtesy of Garden Collage.[/caption]
While THC is the main psychoactive chemical component of the cannabis plant, marijuana also contains over 60 other cannabinoids, each with their own medical benefits.
One of the most overwhelmingly beneficial cannabinoids generating hype at the moment is cannabidiol, or CBD. It is a non-psychotropic compound, meaning it doesn't generate any mind-altering effects in the patient (unlike THC), and has been shown to have a wide range of medical benefits.
According to a review published in the British Journal of Clinical Pharmacology in 2013, recent studies show that CBD is antiemetic (reduces nausea and vomiting), antipsychotic (combats psychosis disorders), and anti-inflammatory.
Most notably, CBD has also been found to be an anticonvulsant, winning the compound the spotlight in recent documentaries such as The Culture High (2014) for its primary role in the treatment of extreme cases of epilepsy.
The Culture High features the story of California resident Jason David and his son Jayden. Jayden began suffering from seizures at only 6 months of age. After suffering up to 100 seizures a day and trying a prescription of five different medications, Jayden's family decided to try CBD extract. Jayden went a full day without a seizure for the first time in nearly his whole life the day he tried CBD.
Other cannabinoids found to have medicinal properties include cannabinol (CBN), a strong sleep inducer and the main reason cannabis is often prescribed for patients suffering from insomnia, and cannabigerol (CBG), a compound responsible for enhancing our bodies ability to absorb THC and CBD and also relieving nerve pain in Glaucoma patients.
It May Be A Safer Bet Than Many Other Medicines
[caption id="" align="alignnone" width="640"]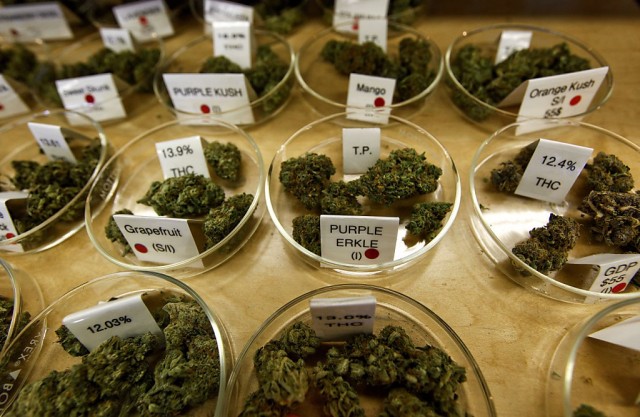 Image courtesy of Weedist.[/caption]
According to the Centers for Disease Control and Prevention (CDC), the number of prescription painkillers prescribed and sold in The US has quadrupled since 1999. Undoubtedly, the US is suffering from a "prescription epidemic" that is leading many ordinary citizens to addiction, and even death.
The CDC claims that over 40 Americans die from an overdose of prescriptions drugs every day, and many more suffer from addiction problems. While we are not physicians and are not qualified to give you advice on what medications you should and should not take, it may be worthwhile to ask your doctor about whether medical marijuana may work as a substitute for opiate based pain medication, insomnia medication, or even anti-depressants.
The Evidence is Only Growing
[caption id="" align="alignnone" width="720"]
Cannabis reasearch. Image courtesy of The Daily Chronic.[/caption]
As outdated policies are overthrown in places such as California and other states in the US, the doors for further study of marijuana's role as a natural medicine are being opened.
For example, DrugScience, an independent, science-based charity started by Professor David Nutt (previous Chair of The UK's Advisory Council on the Misuse of Drugs), claim new research suggests that CBD may aid in the treatment of schizophrenia.
In The Culture High, Harvard researcher Dr. Lester Grinspoon labelled marijuana as "the most nontoxic medicine I have ever come across." He also said it will prove to be much less expensive than other pharmaceutical products once it is no longer prohibited.
As research on medical marijuana and its benefits begins to evolve, our society is beginning to become much more familiar with this plant, its chemical makeup, and its many uses. As more statistics and information come into the spotlight, it is now safer than ever before to consider medical marijuana in the treatment of various conditions.
It's Easier Than Ever Before
[caption id="" align="alignnone" width="720"]
Cannabis dispensary. Image courtesy of Leaf Science.[/caption]
With policy changes and changing attitudes towards marijuana, it is becoming easier than ever to experiment with medical cannabis to treat a variety of conditions.
Regulations are slowly being put in place to help patients stay in control of their doses and the quality/strength of the cannabis that they are using. Edible manufacturers are now being required to provide dosage information on their packaging, and dispensaries are able to provide patients with extra information on the strength, chemical makeup, and effects of the products that they are distributing.
Furthermore, sites like GreenRush make it near-effortless and discreet to receive your medical cannabis directly to your door. With over 150 dispensaries around California, you can browse hundreds of different strains, edibles, trinkets, oils, and topicals from your computer or handheld device, and have your cannabis delivered directly to your door.
If you believe medical marijuana may help you with any aspect of your daily life, we recommend you speak with your doctor today. With recent changes to policy and legislation, it is now an exciting and safe time to try medical marijuana and experience its many benefits.
Ready to reap the benefits of medical cannabis? Sign up to GreenRush using the promo code below and get $20 off your first FOUR orders from the best dispensaries in your area.