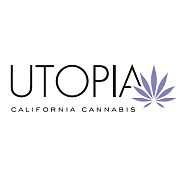 Utopia
5.00 ★
Artisan Made, Simply Clean, Uncompromising Quality
Utopia is built on authenticity, transparency and quality above all else. Originally developed as an exotic indoor flower brand, Utopia quickly garnered attention with the launch of the potent C. Banana strain (testing as high as 35% THC). Disheartened by the industry's lack of quality, clean-tested cannabis, we set out to develop a branded alternative to the unlabeled, un-tested products that filled dispensary shelves. Our commitment to consumers has resulted in products focused on health, higher business ethics and unparalleled quality. Today, Utopia can be found throughout CA and has award-winning indoor flowers, high cannabinoid / high terpene extracts and healthy edibles.
Utopia's flower line consists of exotic genetics cultivated in small batches indoors. Currently available in C. Banana (signature strain testing as high as 35% THC) and Lambsbread, each packaged eighth is selectively chosen to ensure consistent bud size, structure and flavor/effect profile. Our high cannabinoid, high terpene extracts are refined to capture each strain's unique profile. Sourced from craft farms in Santa Cruz and Mendocino, Utopia's extracts are known for purity with cannabinoids reaching 97%, terpenes reaching 16% and residual solvents guaranteed below 50 ppm. Utopia's edible line produces macaroons made with organic, raw, vegan, gluten-free, kosher- & paleo- friendly ingredients. Currently, these coconut cookies are available in Chocolate, Vanilla, Raspberry, Chocolate-Chip and Peanut Butter.
Our products are lab tested with SC Labs, every batch, every time to ensure purity, safety and consistency. With over 3000 test results, transparency is one of the cornerstones of Utopia. To further ensure quality, we are an Envirocann Certified company. After undergoing full-spectrum testing, each package is labeled with a batch number that is linked to a publicly available lab result, allowing you to know the potency, terpene, pesticide, residual solvent, and microbiological test results. These can be verified on www.sclabs.com or www.utopiacannabis.com. Utopia works hard to provide trusted products.
Clean growing practices, clean ingredients and a company that cares, #ThisIsUtopia. We are committed to environmentally-conscious growing practices and use natural and OMRI certified fertilizers and pest management techniques. As an official carbon neutral organization, our footprint is offset through reforestation projects. To further neutralize our impact, we implement water-saving techniques that reclaim ~60% of our water. Our extracts are processed using medical grade solvents and fresh flowers from craft, pesticide-free farms. Utopia's edibles are made with organic food ingredients and our in-house extracts. We are active supporters of our community and committed to fair pay. Utopia staff earns a living wage and we are proud to donate 5% of all employee time to local charities.